Weather Live San Vito Lo Capo
San Vito Lo Capo enjoys a microclimate that makes it special among the Sicilian seaside destinations.

In spring the weather is mild and sunny, it invites you to spend your days outdoors, the sea water is still even if a little cold, so it is a good time to do long walks in the natural reserves, cycling, hiking and much more ...
Autumn often gives us summer days like and the sea, still warm, invites us to long swims ... a true luxury for those who can still enjoy the beautiful beach avoiding the crowds of the summer months.
Summer is hot and it is better to use sun screen, especially for children. With the Sirocco winds, hot and dry, winding from the African desert, the sea becomes crystal clear and the beach enjoys tropical colors. During the days of Grecale wind the climate is cooler and drier, very good for those who love spending many hours under the sun.
The winter lasts just few months, from December to March, and it does not concern those who love outdoor sports, because a good equipment is enough for you to practice every kind of activity. During winter a sunny day is enough to make the temperature increase fast and the bravest can also experience the thrill of a swim out of season.
San Vito Lo Capo is just the right destination during the whole year, try it!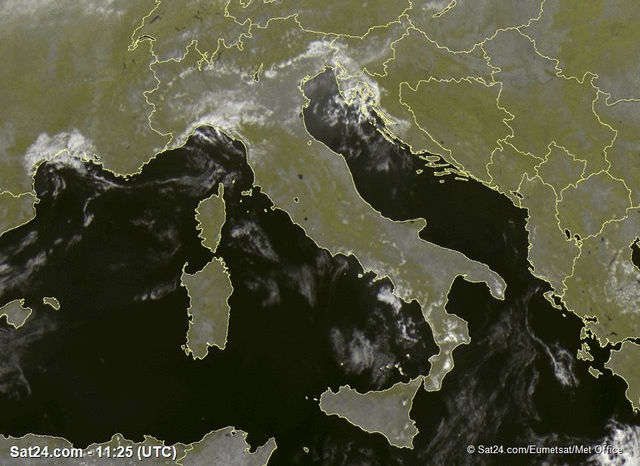 Images by sat24.com

Climate averages in San Vito Lo Capo
| Month | Temp. min | Temp. max | Rainfall | Humidity | Wind | Sunshine |
| --- | --- | --- | --- | --- | --- | --- |
| January | 8 °C | 15 °C | 56 mm | 82 % | WNW 16 km/h | 4 hours |
| February | 8 °C | 15 °C | 46 mm | 81 % | W 16 km/h | 5 hours |
| March | 9 °C | 17 °C | 45 mm | 80 % | WNW 16 km/h | 6 hours |
| April | 10 °C | 19 °C | 37 mm | 76 % | NNW 16 km/h | 7 hours |
| May | 13 °C | 23 °C | 17 mm | 74 % | NNW 16 km/h | 9 hours |
| June | 17 °C | 27 °C | 5 mm | 72 % | NNW 16 km/h | 10 hours |
| July | 19 °C | 30 °C | 2 mm | 72 % | NNW 15 km/h | 11 hours |
| August | 20 °C | 30 °C | 9 mm | 74 % | NNW 15 km/h | 10 hours |
| September | 18 °C | 28 °C | 42 mm | 76 % | NNW 16 km/h | 9 hours |
| October | 15 °C | 24 °C | 61 mm | 79 % | N 16 km/h | 7 hours |
| November | 12 °C | 19 °C | 65 mm | 82 % | N 16 km/h | 5 hours |
| Dicember | 9 °C | 16 °C | 65 mm | 82 % | W 16 km/h | 4 hours |